Here is a re-cap of how President Trump's comments moved stocks last week:
1. STEEL SECTOR: On Thursday, Donald Trump met with several steel company CEOs at the White House to discuss the state of the industry and the administration's plans to crack down on steel dumping. Following the sit down, he signed a memorandum related to section 232 of the Trade Expansion Act of 1962 and said he has directed the Commerce Department to launch an investigation into whether or not foreign companies, particularly those from China, are dumping steel on the U.S. market. Publicly traded companies in the steel space include Steel Dynamics $STLD , AK Steel $AKS , U.S. Steel $X and Nucor $NUE .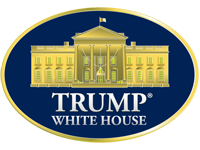 2. HOSPITALS: Earlier this week, hospital stocks were under pressure following reports of Health bill progress. CNBC tweeted, "NEW: If health care changes in MacArthur memo are in bill text, they'd get 18-20 new @freedomcaucus votes. Brings total to
25-30, per source." Publicly traded companies in the space include Community Health $CYH , HCA Holdings $HCA LifePoint $LPNT , Tenet $THC and Universal Health $UHS .
3. TECH COMPANIES: According to a news report by Recode, tech companies such as Amazon $AMZN , Apple $AAPL , Facebook $FB , Google $GOOG; $GOOGL , and Microsoft $MSFT have focused some of their lobbying sums in Washington over the past three months on fighting President Trump, as he looked toward major changes to the U.S. tax code and placed new restriction on foreign immigrants. Both issues are present on many companies' first quarter lobbying reports, the publication notes.
4. HUMANA: On Friday, Jefferies downgraded Humana $HUM to Hold and lowered his price target on the shares to $221 from $237. The analyst told investors that he views the shares as expensive and pointed out that 2018 premium growth under President Trump is lower than 2017 under Obama. Events that would enhance Medicare Advantage decidedly above Medicaid and Commercial "are not blossoming," Windley contended.
5. FINANCE-RELATED EXECUTIVE ORDERS: President Trump signed two finance-related executive orders on Friday aimed at unwinding regulations put into place after the financial crisis. The directives target "living wills" that banks must formulate to show how they would be broken up it there is danger of failure. Alongside banking measures, the administration is ordering a review on rules regarding inversions. Publicly traded money center banks include Bank of America $BAC , Citi $C , Goldman Sachs $GS , JPMorgan $JPM , Morgan Stanley $MS , U.S. Bancorp $USB and Wells Fargo $WFC .
6. TAX REFORM: On Thursday, Treasury Secretary Steven Mnuchin said during the International Finance Washington Policy Summit that the Trump administration is close to bringing forward "major tax reform." The following day, Trump told Associated Press that he will unveil a tax plan next week that includes "massive" tax cut for individuals and businesses.
To read more, please see Stockwinners