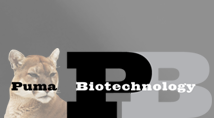 The #FDA said in briefing documents ahead of Wednesday's advisory panel on #Puma Biotechnology's breast cancer drug, "In conclusion, the totality of evidence demonstrating the magnitude of activity of neratinib to treat HER2 positive breast cancer across multiple clinical settings, plus the strong neoadjuvant data, provides robust scientific and clinical rationale for proceeding into the adjuvant setting with neratinib.
An unmet medical need exists during the 'extended adjuvant period' or the time after standard of care adjuvant therapy with other anti-HER2 therapy has been completed. Patients who have completed their 1 year of trastuzumab adjuvant therapy have no options for further anti-HER2 treatment and enter into a "watch and wait" period. In the interest of being able to turn this time into a period of active anti-HER2 therapy with the intent to provide further improvement in iDFS, neratinib was studied as extended adjuvant therapy in a multicenter randomized, double blind placebo controlled Phase 3 Study 3004 (N=2840) which demonstrated clinically meaningful and statistically significant improvement in iDFS with a manageable safety profile consistent with other approved agents within the class of TKIs targeting EGFR and HER2.
The sponsor believes the totality of the data support approval of #neratinib 240 mg po qd for 1 year in the extended adjuvant setting in order to provide physicians and patients with a new strategic therapeutic option to reduce the rate of recurrence of HER2 positive breast cancer."
See our earlier blog regarding this stock.
To learn more, please visit Stockwinners Market Radar.
The article does not constitute investment advice. Each reader is encouraged to consult with his or her individual financial professional and any action a reader takes as a result of information presented here is his or her own responsibility.