D.R. Horton to acquire 75% of Forestar Group for $16.25 per share cash
Forestar would remain a public company to ensure continued access to capital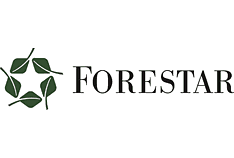 D.R. Horton (DHI) announced that the company has submitted a proposal to the Board of Directors of Forestar Group (FOR) to acquire 75% of the currently outstanding shares of Forestar for $16.25 per share in cash.
The $16.25 per share value represents a 14% premium over the purchase price to be paid to the Forestar stockholders pursuant to the existing merger agreement between Forestar and affiliates of Starwood Capital Group.
#Forestar Group Inc. operates as a real estate company. The company engages in the acquisition, entitlement, development, and sale of real estate, primarily residential and mixed-use communities. It also sells commercial tracts; residential lots primarily to homebuilders; undeveloped land through its retail sales programs, as well as operates commercial real estate and income producing properties, such as a hotel and multifamily properties.
Under the proposed transaction, Forestar would remain a public company to ensure continued access to capital to support the increasing scale of the business. D.R. Horton believes continuing Forestar stockholders will have the opportunity to participate in significant value creation through a strategic relationship with D.R. Horton that would help Forestar grow organically into the leading residential land development company in the United States, selling developed residential lots to #D.R.Horton and other #homebuilders.
Forestar would be led by new executive chairman Donald Tomnitz, who served as CEO of D.R. Horton for over 15 years, and a strong management team that is expected to include Forestar's experienced professionals.
The transaction would be effected through a merger of a newly formed, wholly owned subsidiary of D.R. Horton with Forestar. The Merger would have a cash election feature in which Forestar stockholders would have the right to elect, for each share of common stock held, either to receive $16.25 per share in cash as merger consideration, or to retain such share of the surviving entity. Cash and stock elections will be prorated, as appropriate, such that 75% of the shares of Forestar common stock outstanding before the Merger are converted into the $16.25 per share cash consideration.
Following the Merger, D.R. Horton would own 75% of the outstanding Forestar Successor shares, and existing stockholders would own 25% of the outstanding Forestar Successor shares. Forestar would remain a public company, and its common stock will trade on the NYSE. D.R. Horton has the cash and other immediately available capital to fund the approximately $520M investment.
Visit Stockwinners to read more.
The article does not constitute investment advice. Each reader is encouraged to consult with his or her individual financial professional and any action a reader takes as a result of information presented here is his or her own responsibility.