Glencore submits proposal to acquire Rio Tinto's Coal & Allied Industries for $2.55B
Glencore Proposal will be funded from existing cash resources and committed facilities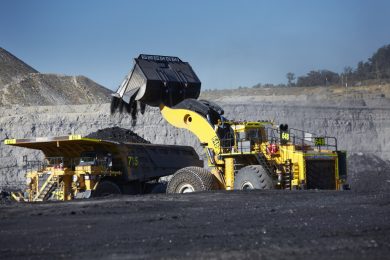 Glencore (GLNCY) announced it has submitted a proposal to acquire Rio Tinto's (RIO) 100% interest in Coal & Allied Industries for $2.55B cash plus a coal price linked royalty, with the cash comprising $2.05B cash payable on completion and $500M in aggregate deferred cash payments, payable as annual instalments of $100M over five years following completion.
Rio Tinto plc (RIO) finds, mines, processes, and markets mineral resources. The company mines and produces aluminum products, including bauxite, alumina, and aluminum; copper, gold, silver, and molybdenum, as well as nickel; diamonds, titanium dioxide feedstocks, borates, and salt, as well as high purity iron, steel billets, metal powders, zircon, and rutile; uranium; iron ore; and thermal coal, and coking or metallurgical coal.
A subsidiary of #Mitsubishi Corporation has a tag-along right to sell its 32.4% interest in the Hunter Valley Operations joint venture.
Glencore has agreed to purchase Mitsubishi's 32.4% interest in the HVO JV and 28.898% interest in the Warkworth joint venture for $920M cash conditional on completion of Glencore's acquisition of C&A from Rio Tinto, with $520M being payable on completion and $100M payable on the first four anniversaries of completion.
The Glencore Proposal will be funded from existing cash resources and committed facilities and is subject only to regulatory conditions. Glencore will only be bound once a binding share purchase agreement is concluded with Rio Tinto.
If a transaction is concluded, Glencore intends to mitigate its overall financial commitment via a sale / monetization of assets, prioritizing its coal portfolio, of no less than $1.5B, including exploring the option of selling down up to 50% of its interest in the C&A mines.
"In any event, as part of our overall Group financial policy, in addition to targeting maximum 2x Net debt/Adjusted EBITDA through the cycle, Glencore's balance sheet will be managed to prevent net debt increasing above December 2016's level of $15.5B, thereby ensuring that our leverage target is comfortably met and financial conservatism maintained," Glencore stated.
To read stories similar to this, sign up for a free trial membership to Stockwinners; be sure to check the Market Radar section.
The article does not constitute investment advice. Each reader is encouraged to consult with his or her individual financial professional and any action a reader takes as a result of information presented here is his or her own responsibility.