A tech company with autonomous truck ambitions could buy Wabco
Piper raised its price target for Wabco shares to $143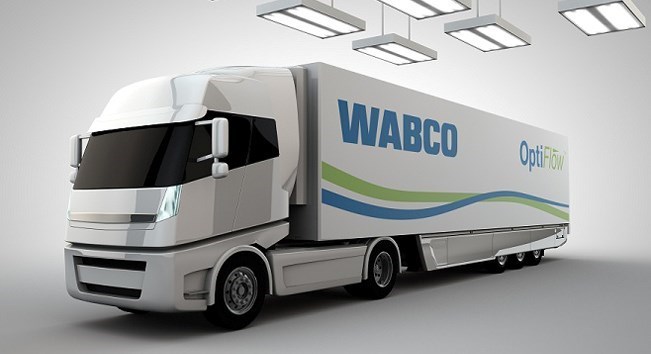 With disruption seen in the automotive market amid the development of connected and autonomous vehicle technology, Piper Jaffray analyst Alexander Potter said he expects the trucking sector to follow suit, leaving Wabco Holdings (WBC) as the only truck stock that he views as worth owning.
BIG TECH EYES TRUCKS
As tech companies develop self-driving technology, Tesla (TSLA) and Amazon (AMZN) are making moves that analysts believe could potentially disrupt the trucking space.
In April, Tesla CEO Elon Musk tweeted, "Tesla Semi truck unveil set for September," after originally announcing the electric truck in his "Master Plan, Part Deux," released in July, writing it "will deliver a substantial reduction in the cost of cargo transport, while increasing safety and making it really fun to operate."
Meanwhile in December, Amazon was said to be developing an app, expected to launch this summer, which will connect truckers and shippers in much the same way that Uber connects drivers and riders.
"ONLY" TRUCK STOCK WORTH OWNING
Piper's Potter raised his price target for Wabco shares to $143 from $129 in a note to investors this morning, saying the company's upcoming analyst day should illuminate the point that it will benefit, not be disrupted by, secular trends in the industry.
A tech company with autonomous truck ambitions could buy Wabco and then use its "dominant position" in braking/stability control to drive standardization around a suite of self-driving algorithms, the analyst argues.
However, technology companies might not consider purchasing Wabco as they have often preferred to partner with automotive suppliers in order to focus on developing software or operating systems, Potter said, but added investors underestimate the role of electronics and software/controls in Wabco products.
Ignoring a potential takeover, the analyst still believes investors should buy Wabco to benefit from growth themes like automation and connectivity. Potter said even without the self-driving, connected vehicles trend, he expects Wabco's revenue-per-vehicle-produced to continue to rise, the European truck cycle to recover following French elections and sees upside in China during the year. He keeps an Overweight rating on the shares.
OTHERS TO WATCH
Other publicly traded companies in the trucking and logistics space include C.H. Robinson (CHRW), ArcBest (ARCB), J.B. Hunt (JBHT), Echo Global (ECHO), Expeditors (EXPD), Knight Transportation (KNX), Old Dominion (ODFL), Swift Transportation (SWFT), Werner (WERN) and XPO Logistics (XPO).
PRICE ACTION
Wabco rose 0.1% to $121.68 in early afternoon trading. Shares have a 52-week trading range of $84.48 – $126.07.
To read stories similar to this, sign up for a free trial membership to Stockwinners; be sure to check the Market Radar section.
The article does not constitute investment advice. Each reader is encouraged to consult with his or her individual financial professional and any action a reader takes as a result of information presented here is his or her own responsibility.