CBS will broadcast the fight on radio while its subsidiary, Showtime charges $100 for pay-per-view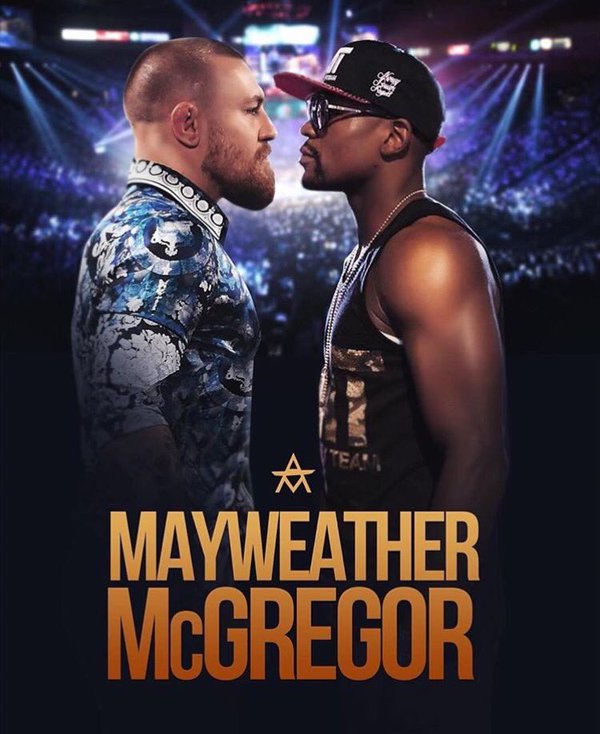 Tonight's matchup between Floyd Mayweather and Conor McGregor has been called the "The Money Fight." You may ask why?  The $99.95 high-definition price tag on CBS Corp.'s Showtime is the highest ever charged for a pay-per-view event. CBS (CBS) expects about 4.9 million viewers will sign up for the broadcast.
It is the most distributed event in pay-per-view history. It will be shown in in over 200 countries on pay-per-view.
WINNERS
CBS has deals with other companies to show the fight live. Buffalo Wild Wings (BWLD) will show the fight at most of its 1,220 restaurants. Stocks of BWLD and CBS are probably worth watching more than the fight itself!
It is estimated that  $700 million revenue will be generated from pay-per-view buys, ticket sales and other sources of income, according to sources. By comparison, Mayweather's record-breaking match with Pacquiao in 2015 raked in an estimated $600 million. And let's not forget tickets to the T-Mobile Arena, sponsorships, simulcast rights, merchandise and the many peripheral activities — gambling, hotel stays, meals — leading up to the big day on the Las Vegas Strip.
Japan's boxing fans can view the fight with their smartphone and a $15 subscription to DAZN, a UK-owned sports streaming service that's seeking to turn sports nuts into cord cutters.  This is a new business model for pay-per-view.
"Mayweather vs. McGregor truly is a unique event and I doubt there will ever be one quite like it in the future," said CEO of DAZN James Rushton. "We are analyzing how fans react to having this fight on DAZN and will evaluate if it's something we want to continue doing in the future."
Floyd Mayweather is expected to have a $300 million payday while McGregor is set to earn anywhere from $50 million to $100 million, according to various estimates.
[youtube https://www.youtube.com/watch?v=8oXy51JvkFY&w=640&h=360]
The last time Mayweather lost was in 1996, in a highly controversial decision at the semi-finals of the Atlanta Olympic Games, to Bulgarian Serafim Todorov. Even the Egyptian referee for the fight assumed Mayweather had won and held Mayweather's hand aloft just as Todorov was announced as the winner.  It would seem a mistake to bet against Mayweather now!
LOSERS
The biggest loser of the night will be HBO and its parent company Time Warner or soon to be AT&T (T).
With no real challengers remaining in boxing this year, Mayweather turned to the UFC and its biggest star, Conor McGregor. According to insiders, he timed the announcement and staged the fight in a manner designed to deal maximum damage to his former network partner, HBO, and two of their biggest pay-per-view fights of 2017.
Begin with the choice of an Aug. 26 fight date. "It's perverse," tells Bloomberg Jim Lampley, HBO boxing's longtime commentator. "If there's one indelible, accepted principle in operating pay-per-view, it's 'never before Labor Day.'
That's why, for the upcoming HBO bout between middleweight titleholder Gennady Golovkin and former champ Canelo Alvarez—one of boxing's best tilts, on paper, in years—the channel jumped on Sept. 16 to maximize the number of pay-per-view buys, assuming that Showtime would choose a later date in the fall for Mayweather-McGregor.
Instead, Mayweather-McGregor was set for Aug. 26, creating a tidal wave of publicity that is currently drowning the lead-up to the Canelo-Golovkin fight.
ODD MAKERS
The action is reflected in the odds, which bookmakers adjust either way as money comes in on the two fighters. Bookmakers have been lowering the odds steadily since the fight was announced, but even that hasn't stopped the deluge of McGregor bets.
The big bettors are putting their money on Mayweather, who is 49-0 as a pro. But so many McGregor fans are betting small amounts that the betting slips were running 18-1 in the Irish fighter's favor. McGregor fans have flooded sports books with $100 bills backing the mixed martial arts fighter, and even a late surge of money on Mayweather might not be enough to balance the books.
A fight that began with Mayweather an 11-1 favorite is now 5-1 or even less in some sports books.
Should McGregor somehow manage to knock out Floyd Mayweather Jr. in the early rounds Saturday night, Las Vegas' bookmakers would lose millions of dollars in the biggest single event loss in the history of sports betting, according to Fox Business
---
Floyd Mayweather vs Conor McGregor
Date: Saturday, Aug. 26, 2017
Time: 9 p.m. ET
Location: T-Mobile Arena in Las Vegas
---
STOCKWINNERS
To read timely stories similar to this, along with money making trade ideas, sign up for a membership to Stockwinners.
This article does not constitute investment advice. Each reader is encouraged to consult with his or her individual financial professional and any action a reader takes as a result of information presented here is his or her own responsibility.