Helios and Matheson jumps as MoviePass exceeds initial projections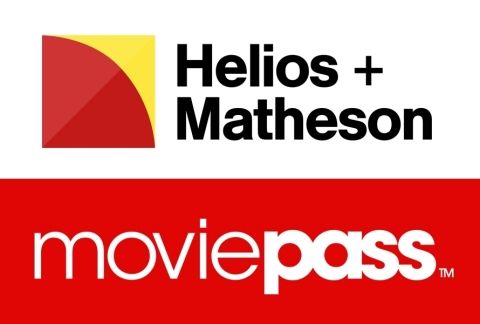 Shares of Helios and Matheson Analytics (HMNY) jumped in Tuesday's  trading after the company said its MoviePass theater subscription services surpassed over 600,000 paying monthly subscribers this month.
MOVIEPASS EXCEEDING PROJECTIONS
Helios and Matheson, a majority owner of MoviePass, said this morning that the subscriber base for the movie theater subscription service surpassed 600,000 paying monthly subscribers as of October 18, compared to about 20,000 as of August 14.
The company said the continued growth has exceeded initial expectations.
The company also said that its subscriber churn rate has been shrinking, to 2.4% in month two from 4.2% in month one.
Based on current churn rates, MoviePass said monthly subscriber retention is above 96% and average paying monthly subscriber life expectancy is 46.8 months.
"Month after month we aim to improve our service with faster card delivery, improved application updates, and an easier-to-use web site. We believe our strategy is paying off in terms of increased satisfaction, reduced churn, and faster growth," MoviePass CEO Mitch Lowe said in a statement.
"When you apply computer science and machine learning to an industry that we believe has lacked significant innovation, useful patterns start to emerge," said Helios and Matheson Chairman and CEO Ted Farnsworth.
WHAT'S NOTABLE
On August 15, Helios and Matheson announced that it had entered into a definitive agreement to acquire a majority stake of MoviePass, which is led by Lowe, a Netflix (NFLX) co-founder and former Redbox president.
Helios and Matheson also introduced a new monthly movie ticket subscription of $9.95, allowing customers to get into one showing every day at any theater in the U.S. that accepts debit cards for about the price of a single ticket each month.
The following month, MoviePass subscribers rose to over 400,000 from less than 20,000.
Earlier this month, Helios and Matheson increased its ownership stake in MoviePass to 53.71% from 53%. Helios and Matheson Analytics shareholders still have to approve the company's purchase of its majority stake in MoviePass.
Following the price cut to $9.95, MoviePass said its website was overwhelmed by the volume of traffic from interested customers, forcing some theatergoers to wait almost a month before their passes arrived in the mail. At the time, Lowe said he "totally underestimated demand," but the company boosted its team to 35 to deal with the backlog.
CITRON, STREET SWEEPER CAUTIOUS
Some are cautious on Helios and Matheson as shares have jumped over 1000% since announcing the acquisition of a majority stake in MoviePass.
Citron Research tweeted on October 11 that Helios and Matheson's stock will "trade back to $20 Retail investors are warned. You might like product but $1+bill it isn't. Giving away $1 for .90 no biz."
A day later, Citron tweeted that "Don't like to stay short companies that are expected to lose money high borrow $ hit tgt price in one day. all timing." Helios and Matheson has also been mentioned cautiously by TheStreetSweeper.
PRICE ACTION
Helios and Matheson, while off earlier highs, is still up about 2% to $13.56.
---
STOCKWINNERS
To read timely stories similar to this, along with money making trade ideas, sign up for a membership to Stockwinners. 
This article does not constitute investment advice. Each reader is encouraged to consult with his or her individual financial professional and any action a reader takes as a result of information presented here is his or her own responsibility.