Physical retailers rise, online retailers drop after Supreme Court tax ruling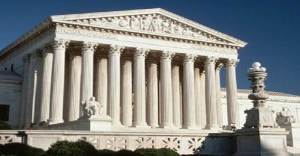 Shares of brick-and-mortar retailers are rising, while shares of e-commerce firms are slipping, after the Supreme Court ruled that online retailers can be required to collect sales taxes in states where they have no physical presence.
SUPREME COURT RULING
On Thursday, the Supreme Court sided with the state of South Dakota in a fight it brought against Wayfair (W) to require a business that has no physical presence in the state to collect its sales tax.

The Supreme Court ruled in a 5-to-4 vote that a 1992 judgement in Quill Corporation v. North Dakota regarding the physical presence rule was "unsound and incorrect," according to a judgement posted to the high court's website.
Justice Anthony Kennedy, in writing for the majority opinion, said the Quill decision had distorted the economy and resulted in states losing annual tax revenues between $8B-$33B.
"Quill puts both local businesses and many interstate businesses with physical presence at a competitive disadvantage relative to remote sellers," he wrote.
"Remote sellers can avoid the regulatory burdens of tax collection and can offer de facto lower prices caused by the widespread failure of consumers to pay the tax on their own."
WHAT'S NOTABLE:
Following the ruling, industry trade organization National Retail Federation issued a statement saying,
"Retailers have been waiting for this day for more than two decades. The retail industry is changing, and the Supreme Court has acted correctly in recognizing that it's time for outdated sales tax policies to change as well.
This ruling clears the way for a fair and level playing field where all retailers compete under the same sales tax rules whether they sell merchandise online, in-store or both."
ANALYST COMMENTARY
KeyBanc analyst Edward Yruma called the ruling a negative for Wayfair, arguing that it may reduce some of the price differential that has helped it gain share from traditional peers.
The ruling is also a negative, but to a lesser degree, for eBay (EBAY) and Etsy (ETSY), said Yruma, who views the impact on those two as more related to compliance and implementation.
He adds that the news could be a modest positive for retailers of high-ticket and branded products, such as Best Buy (BBY), Home Depot (HD), Lowe's (LOW), La-Z-Boy (LZB), Kirkland's (KIRK), RH (RH) and Williams-Sonoma (WSM).
PRICE ACTION
At Thursday midday, Target (TGT) rose 1.8%, Walmart (WMT) was up 0.7%, Costco (COST) rose roughly 1.1% while Amazon (AMZN) was down 0.4%, Etsy dropped about 2.5%, eBay fell 1.4% and Wayfair (W) was down 1.2%.
In addition, Avalara (AVLR), a software company focused on automated tax compliance that recently held its initial public offering, gained 17.1%.
---
STOCKWINNERS
To read timely stories similar to this, along with money making trade ideas, sign up for a membership to Stockwinners.
This article does not constitute investment advice. Each reader is encouraged to consult with his or her individual financial professional and any action a reader takes as a result of information presented here is his or her own responsibility.