Aravive reports data from ongoing Phase 1b portion of AVB-500 trial
Aravive (ARAV) announced new data from the ongoing Phase 1b portion of the Phase 1b/2 clinical trial of AVB-500 in platinum-resistant recurrent ovarian cancer patients.
The data from the first 31 patients treated at the 10 mg/kg dose are maturing and affirm earlier findings on the relationship between AVB-500 levels and anti-tumor response.
In this data analysis, high serum drug levels of AVB-500 were strongly predictive of anti-tumor activity with statistically significant correlation to progression-free survival.
PFS is the primary endpoint for platinum-resistant ovarian cancer clinical trials.
At the 10 mg/kg dose, patients that met or exceeded the minimal efficacious concentration of AVB-500 demonstrated a greater than four-fold increase in median PFS over those with low exposure and approximately two-fold improvement in overall response rate, including one complete response.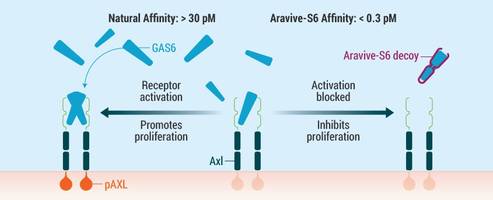 Patients who achieved sufficient AVB-500 exposure also showed improvements in duration of response and clinical benefit rate, with reduced chance of progressing by 3.2-fold.
The open-label, Phase 1b portion of the Phase 1b/2 clinical trial of AVB-500 enrolled patients with platinum-resistant recurrent ovarian cancer in two cohorts, one investigating a combination of AVB-500 with pegylated liposomal doxorubicin and the other a combination with paclitaxel.
All patients were treated with 10mg/kg AVB-500 every other week.
The company previously reported drug exposure-response relationship among the initial patients receiving 10 mg/kg.
The study identified a minimal efficacious concentration that is consistent with at least 95% target engagement based on independent pharmacokinetic modeling.
At the 10 mg/kg dose, 17 of 31 patients in the study achieved the minimal efficacious concentration after the first dose of AVB-500. The baseline characteristics, demographics and safety parameters were comparable between patients who achieved the minimal efficacious concentration and those who fell below that threshold.
The analysis shows that the clinical benefit at this dose level in the study can be primarily attributed to AVB-500 exposure.
Other notable findings: The patient with CR that is pending confirmation achieved the MEC of AVB-500 and was on paclitaxel. She had a baseline serum GAS6 level typical of the platinum-resistant ovarian cancer population and two-fold higher than that observed in healthy volunteers. She also exhibited poor prognostic factors, including two prior lines of therapy and platinum-free interval of less than three months.
Among the patients who responded to AVB-500, four of seven remain responders and continue on study, and two patients remain on AVB-500 as a single agent.
All four patients achieved the minimal efficacious AVB-500 concentration. Among the 13 patients whose best response was SD, four achieved the MEC of AVB-500 and remain on study. One SD patient, whose trough level was below the minimal efficacious concentration, did not progress but withdrew consent.
Because the study is still ongoing and includes only patients above the MEC, duration of response and PFS may continue to evolve.
These data confirm the company's strategy to investigate higher doses in the current Phase 1b study, to determine if a greater proportion of patients can exceed the MEC.
According to our modeling, a dose of 20 mg/kg should allow greater than 90% of the patients to achieve the MEC.
It is anticipated 6 to 12 patients will be treated with 15mg/kg and an additional 12 patients will be treated with 20mg/kg.
An independent safety monitoring group will review data from the 15mg/kg group prior to escalation to the 20 mg/kg dose.
AVB-500 continues to be well-tolerated and there have been no serious and unexpected adverse reactions or dose-limiting toxicities to date.
ARAV closed at $6.51, last traded at $17.20.
STOCKWINNERS
To read timely stories similar to this, along with money making trade ideas, sign up for a membership to Stockwinners.
This article does not constitute investment advice. Each reader is encouraged to consult with his or her individual financial professional and any action a reader takes as a result of information presented here is his or her own responsibility.