Fed lowers federal funds target rate to 0%-0.25% on coronavirus outbreak
Fed, other central banks announce action to enhance U.S. dollar liquidity
Fed to up Treasury securities holdings by at least $500B, MBS by at least $200B
Expect added volatility in financial markets
The Federal Reserve said in a Sunday night statement, "The coronavirus outbreak has harmed communities and disrupted economic activity in many countries, including the United States. Global financial conditions have also been significantly affected.
Available economic data show that the U.S. economy came into this challenging period on a strong footing. Information received since the Federal Open Market Committee met in January indicates that the labor market remained strong through February and economic activity rose at a moderate rate. Job gains have been solid, on average, in recent months, and the unemployment rate has remained low. Although household spending rose at a moderate pace, business fixed investment and exports remained weak. More recently, the energy sector has come under stress.
On a 12-month basis, overall inflation and inflation for items other than food and energy are running below 2 percent.
Market-based measures of inflation compensation have declined; survey-based measures of longer-term inflation expectations are little changed. Consistent with its statutory mandate, the Committee seeks to foster maximum employment and price stability. The effects of the coronavirus will weigh on economic activity in the near term and pose risks to the economic outlook.
In light of these developments, the Committee decided to lower the target range for the federal funds rate to 0 to 1/4 percent.
The Committee expects to maintain this target range until it is confident that the economy has weathered recent events and is on track to achieve its maximum employment and price stability goals. This action will help support economic activity, strong labor market conditions, and inflation returning to the Committee's symmetric 2 percent objective."
---
The Federal Reserve said "To support the smooth functioning of markets for Treasury securities and agency mortgage-backed securities that are central to the flow of credit to households and businesses, over coming months the Committee will increase its holdings of Treasury securities by at least $500 billion and its holdings of agency mortgage-backed securities by at least $200 billion. The Committee will also reinvest all principal payments from the Federal Reserve's holdings of agency debt and agency mortgage-backed securities in agency mortgage-backed securities.
In addition, the Open Market Desk has recently expanded its overnight and term repurchase agreement operations. The Committee will continue to closely monitor market conditions and is prepared to adjust its plans as appropriate," the central bank announced.
---
In an extraordinary move, the Bank of Canada, the Bank of England, the Bank of Japan, the European Central Bank, the Federal Reserve, and the Swiss National Bank announced a coordinated action to enhance the provision of liquidity via the standing U.S. dollar liquidity swap line arrangements.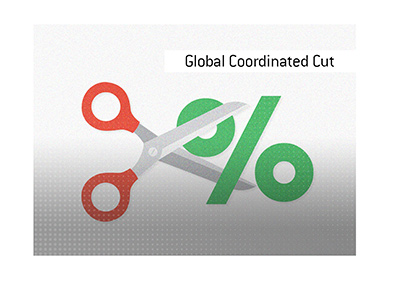 The Federal Reserve stated: "These central banks have agreed to lower the pricing on the standing U.S. dollar liquidity swap arrangements by 25 basis points, so that the new rate will be the U.S. dollar overnight index swap rate plus 25 basis points.
To increase the swap lines' effectiveness in providing term liquidity, the foreign central banks with regular U.S. dollar liquidity operations have also agreed to begin offering U.S. dollars weekly in each jurisdiction with an 84-day maturity, in addition to the 1-week maturity operations currently offered. These changes will take effect with the next scheduled operations during the week of March 16.
The new pricing and maturity offerings will remain in place as long as appropriate to support the smooth functioning of U.S. dollar funding markets. The swap lines are available standing facilities and serve as an important liquidity backstop to ease strains in global funding markets, thereby helping to mitigate the effects of such strains on the supply of credit to households and businesses, both domestically and abroad."
STOCKWINNERS
To read timely stories similar to this, along with money making trade ideas, sign up for a membership to Stockwinners.
This article does not constitute investment advice. Each reader is encouraged to consult with his or her individual financial professional and any action a reader takes as a result of information presented here is his or her own responsibility.