McDonald's announces changes to Happy Meals
No more Chocolate Milk or Cheeseburger in Happy Meals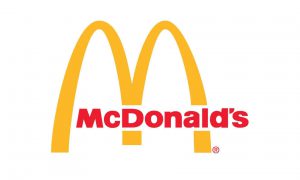 McDonald's (MCD) announced an expanded commitment to families, supporting the company's long-term global growth plan by leveraging its reach to impact children's meals, access to reading, and keeping families together through Ronald McDonald House Charities.
By 2022, McDonald's will make improvements to the Happy Meal menu across 120 markets to offer more balanced meals, simplify ingredients, continue to be transparent with Happy Meal nutrition information, reinforce responsible marketing to children, and leverage innovative marketing to help impact the purchase of foods and beverages that contain recommended food groups in Happy Meals.
Using rigorous nutrition criteria grounded in science and nutrition policy, by the end of 2022, at least 50 percent or more of the Happy Meals listed on menus (restaurant menu boards, primary ordering screen of kiosks and owned mobile ordering applications) in each market will meet McDonald's new Global Happy Meal Nutrition Criteria of less than or equal to 600 calories; 10 percent of calories from saturated fat; 650mg sodium; and 10 percent of calories from added sugar.
Currently, 28 percent of Happy Meal combinations offered on menu boards in 20 major markets meet these new nutrition criteria.
To reach the goal of 50 percent or more, markets will add new menu offerings, reformulate or remove menu offerings from the Happy Meal section of the menu board.
For example, last month McDonald's Italy introduced a new Happy Meal entree called the "Junior Chicken," a lean protein sandwich (grilled chicken).
McDonald's Australia is currently exploring new vegetable and lean protein options and McDonald's France is looking at new vegetable offerings.
As consumers' tastes and preferences continue to evolve, markets will prioritize Happy Meals and simplify ingredients by removing artificial flavors, added colors from artificial sources, and reducing artificial preservatives where feasible.
The company has made a continuous effort to meet consumers' desire for easy access to nutrition information for menu items it serves with a goal of ensuring that nutrition information for Happy Meals is available and accessible through all McDonald's owned websites and mobile apps used for ordering where they exist.
Customers in the U.S. will see accelerated changes to the Happy Meal menu this year.
In June 2018, 100 percent of the meal combinations offered on Happy Meal menu boards in the U.S. will be 600 calories or fewer, and 100 percent of those meal combinations will be compliant with the new nutrition criteria for added sugar, saturated fat, and 78 percent compliant with the new sodium criteria. Listing only the following entree choices: Hamburger, 4-piece and 6-piece Chicken McNuggets.
The Cheeseburger will only be available at a customer's request.
Replacing the small French fries with kids-sized fries in the 6-piece Chicken McNugget meal, which decreases the calories and sodium in the fries serving by half.
Reformulating chocolate milk to reduce the amount of added sugar.
During this period, chocolate milk will no longer be listed on the Happy Meal menu, but will be available at a customer's request.
Later this year, bottled water will be added as a featured beverage choice on Happy Meal menu boards.
In December 2017, McDonald's USA completed the transition to Honest Kids Appley Ever After organic juice drink, which has 45 less calories and half the total sugar than the prior 100 percent apple juice served in the U.S. With these planned menu updates, there will be average reductions of 20 percent in calories, 50 percent in added sugars,13 percent in saturated fat and/or 17 percent in sodium, depending on the customer's specific meal selection.
These reductions reflect the average nutrition data of U.S. Happy Meal offerings on the menu last year compared to those planned for later this year.
Already, several of the Happy Meal combinations available on U.S. menu boards today meet the new nutrition criteria and will not be changing.
MCD closed at $160.00.
---
STOCKWINNERS
To read timely stories similar to this, along with money making trade ideas, sign up for a membership to Stockwinners. 
This article does not constitute investment advice. Each reader is encouraged to consult with his or her individual financial professional and any action a reader takes as a result of information presented here is his or her own responsibility.