U.S. nonfarm payrolls rose only 138k in May, disappointing estimates for a near 200k gain
The unemployment rate dropped to 4.3% versus 4.4% previously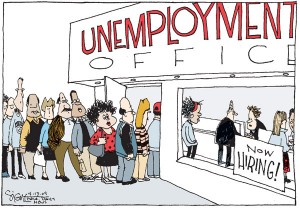 U.S. nonfarm payrolls rose only 138k in May, disappointing estimates for a near 200k gain, following a downwardly revised 174k increase in April (was 211k) and a 79k gain in March.
The unemployment rate dropped to 4.3% versus 4.4% previously.
Average hourly earnings rose 0.2% as was the case in April (revised from 0.3%). The workweek was steady at 34.4.
For the internals, the labor force plunged 429k after April's 12 rise, with household employment tumbling 233k from 156k.
Private payrolls were up 147k compared to the 253k jump in the ADP, while government subtracted 9k.
Jobs in the goods producing sector were up 16k, with construction increasing 11k and manufacturing falling 1k.
The service sector added 131k jobs, led by education/health with a 47k gain, while business services jobs were up 38k.
Declines were registered in trade/transport and information services.
The disappointing report will knock bond yields lower but shouldn't seriously impact expectations for a Fed rate hike on June 14. The dollar is lower following the job report as some hope that FOMC may not raise interest rates at its next meeting.
Stocks to watch: MAN, RHI, KELYA, TMH, ASGN, KFRC
Visit Stockwinners to read more.
The article does not constitute investment advice. Each reader is encouraged to consult with his or her individual financial professional and any action a reader takes as a result of information presented here is his or her own responsibility.